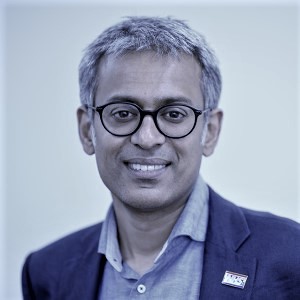 Manu Shankar-Hari
Chair of Translational Critical Care Medicine
Email: manu.shankar-hari@ed.ac.uk
Manu Shankar-Hari is the Chair of Translational Critical Care Medicine at the University of Edinburgh.
His group has the following focussed research themes:
Immunobiology: Explore adaptive immune system changes during sepsis, during ARDS and longer-term in patients who survive sepsis. They integrate orthogonal multilevel data with repeated measurements of cellular phenotype, functional assessments, alongside corresponding transcriptomes and epigenetic landscapes.
Epidemiology and Stratified medicine: Manu's work focuses on Treatable Traits principle. His group use data from randomised controlled trials with novel designs, cohort studies, systematic reviews and large clinical trial datasets to explore treatment effect heterogeneity; and to identify treatable traits based on dominant biological mechanisms in critically ill patients.
COVID-19 research focuses on clinical trials, translational immunology and children with PIMS-TS illness:

 

Translational immunology in adults focusing on how the immune system responses are influenced by treatment with convalescent plasma and recombinant interleukin-7 in the respective clinical trials.
Additional information about Manu's research interests and his research group can be found here: