LungSpy is a platform study for the testing of novel technologies capable of sensing, imaging and sampling the deep parts of the human lung. The study also utilises chemical SmartProbes that are delivered to a patient's distal lung during a routine bronchoscopy procedure via our fibre-based medical devices.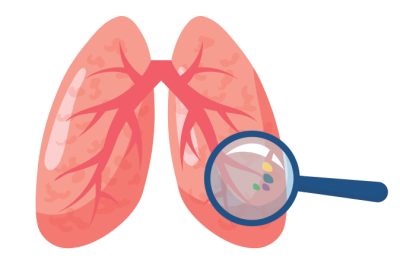 In the presence of pathogens/inflammatory pathways, the SmartProbes fluoresce, and this signal is detected and imaged by our miniaturised fibres in conjunction with bespoke imaging systems.
Differences in the inherent properties of cancerous tissue (relative to healthy tissue) also enables the imaging technologies to identify cancer tissue even without the use of additional SmartProbes. Participants with suspected or confirmed lung cancer or infection can be enrolled.
This clinical study commenced in the summer of 2022 and has recruited 10 participants to date. We will continue to assess the safety and performance of our imaging technologies in approximately 70 additional participants, this will include a preliminary assessment of the technology to visualise bacterial infection and neutrophil activity and differentiate between cancerous and non-cancerous tissue.
The development of the technology has been supported by Wellcome, EPSRC, MRC and CARB-X and will be followed by the larger ICU BAC2BAC study.