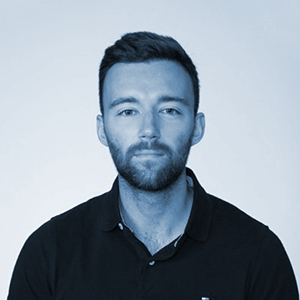 Born in Falkirk, Scotland, Jamie undertook his MChem in Medicinal and Biological Chemistry at the University of Edinburgh including a one-year Erasmus in Amsterdam. He obtained his PhD in chemical immunology from the Vendrell group also at the University of Edinburgh. Professionally, Jamie is interested in the clinical translation of chemical tools for use in healthcare technology, this was underpinned by spending 6 months at a healthcare focussed venture capital firm in Boston, MA during his PhD. In his current role as a GMP chemist Jamie is responsible for the synthesis of novel imaging agents for use in clinical trials. Outside of work Jamie enjoys playing and watching football, golf and tennis.
Publications
Fluorogenic Granzyme A Substrates Enable Real-Time Imaging of Adaptive Immune Cell Activity (2023)
Cheng Z, Thompson EJ, Mendive-Tapia L, Scott J, Benson S, Kitamura T, Senan-Salinas A, Samarakoon Y, Roberts EW, Arias MA, Pardo J, Galvez EM, Vendrell M.
A fluorogenic probe for granzyme B enables in-biopsy evaluation and screening of response to anticancer immunotherapies (2022).
Scott J, Mendive Tapia L, Gordon D, Barth N, Thompson E, Cheng Z, Taggart D, Kitamura T, Blas A B, Roberts E W, Juarez Jimenez J, Michel J, Piet B, de Vries I J, Verdoes M, Dawson J C, Carragher N O, O'Connor R A, Akram A R, Serrels A. Frame M C, Vendrell
Phototherapeutic Induction of Immunogenic Cell Death and CD8+ T Cell-Granzyme B Mediated Cytolysis in Human Lung Cancer Cells and Organoids (2022).
Valančiūtė A, Mathieson L, O'Connor R A, Scott J I, Vendrell M, Dorward D A, Akram A R, Dhaliwal K.
A Functional Chemiluminescent Probe for in vivo Imaging of Natural Killer Cell Activity against Tumours (2021)
Scott J, Gutkin S, Green O, Thompson EJ, Kitamura T, Shabat D, Vendrell M.