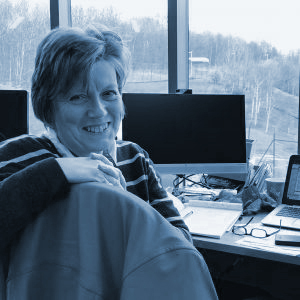 Prior to joining the THT group Irene worked extensively as a clinical nurse within the NHS, mainly within general medicine and cardiology. She has been a Senior Charge Nurse in Coronary Care and also general medicine ward. She has also worked as Liaison Nurse for the British Heart Foundation. Before joining CIR her last clinical post was as a Specialist Nurse for Organ Donation working with NHS Blood and Transplant, responsible for approaching families regarding organ donation and working within my base hospital to raise awareness of organ donation. She acted as a link person between the ex vivo Enlighten group and the Scottish team of SNODs – which is how she came to work in CIR.
Since joining CIR she has supported numerous clinical research projects developing point of care imaging and therapy tools, initially for pulmonary nodules and lung cancer. She is also part of the Enlighten ex vivo lung programme team, supporting the clinical team and helping to maintain links with NHS Blood and Transplant.
In her spare time Irene enjoys a range of pursuits, including painting, making things, gardening, pottering about, trying to learn Italian, eating cake and more pottering about!
Publications 
Computational Fluorescence Suppression in Shifted Excitation Raman Spectroscopy (2023).
Jenkins N, Ehrlich K, Kufcsak A, Yerolatsitis S, Fernandes S, Young I, Hamilton K, Wood HA, Quinn T, Young V, Akram AR, Stone JM, Thomson RR, Finlayson K, Dhaliwal K, Seth S. 
Tri-mode optical biopsy probe with fluorescence endomicroscopy, Raman spectroscopy, and time-resolved fluorescence spectroscopy (2022).
Wood HA, Ehrlich K, Yerolatsitis S, Kufcsák A, Quinn TM, Fernandes S, Norberg D, Jenkins NC, Young V, Young I, Hamilton K, Seth S, Akram AR,Thomson RR, Finlayson K, Dhaliwal K, Stone JM.
Randomised Controlled Trial of Intravenous Nafamostat Mesylate in COVID pneumonitis: Phase 1b/2a Experimental Study to Investigate Safety, Pharmacokinetics and Pharmacodynamics (2022).
Quinn T, Gaughan E E, Bruce A, Antonelli J, O'Connor R A, Li F, McNamara S, Koch O, Mackintosh C, Dockrell D, Walsh T, Blyth K G, Church C, Schwarze J, Boz C, Valanciute A, Burgess M, Emanuel P, Mills B, Rinaldi G, Hardisty G, Mills R, Findlay EG, Jabbal S, Duncan A, Plant S, Marshal ADL, Young I, Russell K, Scholefield E, Nimmo AF, Nazarov IB, Churchill GC, McCullagh JSO, Ebrahimi KH, Ferrett C, Templeton K, Rannard S, Owen A, Moore A, Finlayson K, Shankar-Hari M, Norrie J, Parker RA, Akram AR, Anthony DC, Dear JW, Hirani N, Dhaliwal K.
Sub millimetre flexible fibre probe for background and fluorescence free Raman spectroscopy (2021).
Yerolatsitis S, Kufcsák A, Ehrlich K, Wood HA, Fernandes S, Quinn T, Young V, Young I, Hamilton K, Akram AR.
T cells drive negative feedback mechanisms in Cancer Associated Fibroblasts, promoting expression of co-inhibitory ligands, CD73 and IL-27 in non-small cell lung cancer (2021)
O'Connor R A, Chauhan V, Mathieson L, Titmarsh H, Koppensteiner L, Young I, Tagliavini G, Dorward D, Prost S, Dhaliwal K, Wallace W, Akram A R.
Molecular detection of Gram-positive bacteria in the human lung through an optical fiber–based endoscope (2020).
Mills B, Megia-Fernandez A, Norberg D, Duncan S, Marshall A, Akram AR, Quinn T, Young I, Bruce AM, Scholefield E, Williams GOS, Krstajić N, Choudhary TR, Parker HE, Tanner MG, Harrington K, Wood HAC, Birks TA, Knight JC, Haslett C, Birks TA, Knight JC, Haslett C, Dhaliwal K, Bradley M, Ucuncu M, Stone JM.