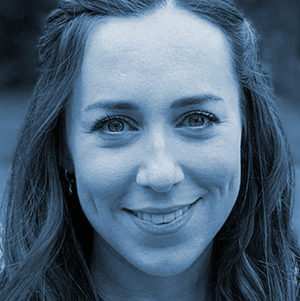 Erin is currently a Clinical Research Fellow. She works as a Specialist Registrar in Respiratory medicine in Edinburgh, having graduated from The University of Edinburgh in 2011 with MBChB. Erin is excited to have recently joined the THT Group, and keen to pursue her interest in interventional bronchoscopy. Within her three year PhD, she will work with the team to validate alveoscopy and SmartProbes within an Intensive Care Unit setting.
Outside of work Erin enjoys running, yoga, and spending time with family and friends.
Publications 
Selective plane illumination optical endomicroscopy with polymer imaging fibers (2023)
Roldán-Varona P, Ross CA, Rodríguez-Cobo L, López-Higuera JM, Gaughan E, Dhaliwal K, Tanner MG, Thomson RR, Parker HE.
Specific in situ immuno-imaging of pulmonary-resident memory lymphocytes in human lungs (2023)
Humphries DC, O'Connor RA, Stewart HL, Quinn TM, Gaughan EE, Mills B, Williams GOS, Stone JM, Finlayson K,  Chabaud-Riou M, Boudet F, Dhaliwal K,  Pavot V.
An Inhaled Galectin-3 Inhibitor in COVID-19 Pneumonitis (DEFINE): A Phase Ib/IIa Randomised Controlled Trial (2022).
Gaughan EE, Quinn TM, Mills A, Bruce A M, Antonelli J, Mackinnon A, Aslanis V, Li F, O'connor R, Boz C, Mills R, Emanuel P, Burgess M, Rinaldi G, Valanciute A, Mills B, Scholefield E, Hardisty G, Gwyer Findlay E, Parker R A, Norrie J, Dear JW, Akram AR, Koch O, Templeton K, Dockrell DH, Walsh TS, Partridge S, Humphries D, Wang-Jairaj J, Slack RJ, Schambye H, Phung D, Gravelle L, Lindmark B, Shankar-Hari M, Hirani N, Sethi T, Dhaliwal K.
Randomised Controlled Trial of Intravenous Nafamostat Mesylate in COVID pneumonitis: Phase 1b/2a Experimental Study to Investigate Safety, Pharmacokinetics and Pharmacodynamics (2022).
Quinn T, Gaughan E E, Bruce A, Antonelli J, O'Connor R A, Li F, McNamara S, Koch O, Mackintosh C, Dockrell D, Walsh T, Blyth K G, Church C, Schwarze J, Boz C, Valanciute A, Burgess M, Emanuel P, Mills B, Rinaldi G, Hardisty G, Mills R, Findlay EG, Jabbal S, Duncan A, Plant S, Marshal ADL, Young I, Russell K, Scholefield E, Nimmo AF, Nazarov IB, Churchill GC, McCullagh JSO, Ebrahimi KH, Ferrett C, Templeton K, Rannard S, Owen A, Moore A, Finlayson K, Shankar-Hari M, Norrie J, Parker RA, Akram AR, Anthony DC, Dear JW, Hirani N, Dhaliwal K.