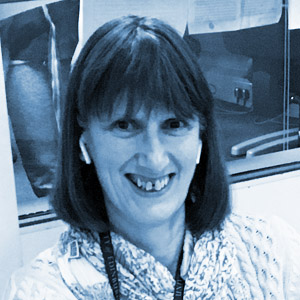 Anne carried out her PhD in Signal Processing at the University of Edinburgh. She then moved into industry working initially as a systems engineer and subsequently as a programme manager for large multi-national defence research contracts.
Anne then had what she describes as an early on-set mid-life crisis and decided to do a second PhD, this time in molecular plant science. After a brief spell as a post-doctoral researcher she was appointed as the Project Manager on the Proteus project, where as well as co-ordinating the research groups she established and maintained the management and quality management structures and processes. She is now the Head of Research Management in the THT Group, using her extensive research and development experience in both Industry and Academia to deliver high value Translational Healthcare research projects.
When she's not working Anne divides her time equally between running and trying to perfect the ultimate chocolate brownie recipe.
Publications 
Phase 2 randomised placebo-controlled trial of spironolactone and dexamethasone versus dexamethasone in COVID-19 hospitalised patients in Delhi (2023)
Wadhwa B, Malhotra V,  Kerai S, Husain F, Pandey NP, Saxena KN, Singh V, Quinn TM, Li F,  Gaughan E, Shankar-Hari M, Mills B, Antonelli J, Bruce A, Finlayson K,  Moore A, Dhaliwal K, Edwards C.
Randomised Controlled Trial of Intravenous Nafamostat Mesylate in COVID pneumonitis: Phase 1b/2a Experimental Study to Investigate Safety, Pharmacokinetics and Pharmacodynamics (2022).
Quinn T, Gaughan E E, Bruce A, Antonelli J, O'Connor R A, Li F, McNamara S, Koch O, Mackintosh C, Dockrell D, Walsh T, Blyth K G, Church C, Schwarze J, Boz C, Valanciute A, Burgess M, Emanuel P, Mills B, Rinaldi G, Hardisty G, Mills R, Findlay EG, Jabbal S, Duncan A, Plant S, Marshal ADL, Young I, Russell K, Scholefield E, Nimmo AF, Nazarov IB, Churchill GC, McCullagh JSO, Ebrahimi KH, Ferrett C, Templeton K, Rannard S, Owen A, Moore A, Finlayson K, Shankar-Hari M, Norrie J, Parker RA, Akram AR, Anthony DC, Dear JW, Hirani N, Dhaliwal K.
Low-cost high sensitivity pulsed endomicroscopy to visualize tricolor optical signatures (2018)
Krstajić N, Mills B, Murray I, Marshall A, Norberg D, Craven TH, Emanuel P, Choudhary TR, Williams GOS, Scholefield E, Akram AR, Davie A, Hirani N, Bruce A, Moore A, Bradley M, Dhaliwal K.
Two-color widefield fluorescence microendoscopy enables multiplexed molecular imaging in the alveolar space of human lung tissue (2016).
Krstajić N, Akram AR, Choudhary TR, McDonald N, Tanner MG, Pedretti E, Dalgarno PA, Scholefield E, Girkin JM, Moore A